Nick Adams
Posted on:

25 September 2018

By:

belinda-admin
Nick started wrestling in his Grade 9 year at junior high school. His friend, Jake, was on the school wrestling team and Jake was the main reason that Nick tried it out. Even though Nick had never wrestled before Grade 9, he soon knew that he had found something he loved. Within 3 months of his first time being on the mat, and he won his first provincial championship and he was hooked! Once the school wrestling season was over, Nick joined the Sackville Wrestling Club. His coaches Mike, Jesse and Rory have supported and coached him to land in places that he never knew were possible to be.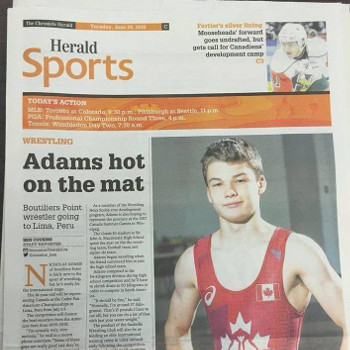 In 2016, he placed second in the 50 kg Greco Roman Canadian National Team Trials. This qualified him for a spot on the National Team to compete at the Pan Am Championships in Lima, Peru. Nick still keeps in touch with many of the wrestlers from his time on Team Canada and he continues to be inspired by their achievements.
After the Pan Am Championships, Nick trained at an elite camp coached by Olympians and World-Champions. He was a bit star-struck! The opportunity to train with wrestlers who had trained differently than him was very good for his development.
While in Peru, Nick took the opportunity to travel inland to explore the Inca Sacred Valley and Machu Picchu with his Dad.
Nick at the top of Machu Picchu in his team Canada singlet.
In 2017, a BC coach, Grigore Gutsu, who is a friend of coach Mike had an opening for a wrestler to train for a few weeks at Liceul Internat Republica cu Profil Sportiv in Chișinău, capital city of the former Soviet republic of Moldova - Coach Mike suggested Coach Gutsu take Nick. Nick packed his bags and off he went half way around the world to Moldova!
Wrestling is the national sport of Moldova and this sport school admits only the top athletes in the country. Coach Gutsu is Moldovian born, knows the language and is passionate about developing wrestlers. Not only were Nick's eyes opened to a completely different culture with it's unique food and customs, he got to train with the best wrestlers in the country for weeks. The practices were 2-3 times a day and were grueling. At the end of every practice, the mats were slippery with sweat. They would go for long runs to round out the day. It was not unusual for European Champions, World Champions and Olympians to show up during practice to coach as if it was the most common thing! Nick's daily training partners were ranked 1st and 3rd in Moldova.
Left: Nick in Chișinău, Moldova, with some of the wrestling students of Liceul Internat Republica cu Profil Sportiv. Right: Out exploring the city.
Since day one, Nick's long-term goal was to earn a position on the Nova Scotian team to compete in the 2017 Canada Games in Winnipeg, Manitoba. In June 2017, Nick won the 52kg spot on the team. He placed 5th at Canada Games in Freestyle and Silver in Greco Roman and walked away with incredible memories and the satisfaction that he had wrestling in the Canada Games!
2017 Summer Canada Games. Left: Nick with his coaches, Mike and Jess, and team manager, Tammy. Right: Nick with fellow Sackville Wrestling Club member and Team Nova Scotia wrestler, Branden.
In early 2017, Coach Mike contacted some US coaches and told them about Nick. (Coach Mike has approached US prep schools and secured exceptional educations for a number of the athletes that he has coached.) Nick was made offers from two prestigious prep schools to study and wrestle at their schools and accepted a two-year offer from The Hotchkiss School in Connecticut, USA, totalling about $150,000 CAN in aid and benefits. Hotchkiss has been an unbelievable experience for Nick, has changed the trajectory of his life, gifted him an exceptional education and the opportunity to make life-long connections from all over the world on the back of wrestling. Coach Mike is to be credited with the prep school opportunity laid out before Nick.
Since wrestling at Hotchkiss, Nick has won bronze in the Connecticut state prep championships, placed 3rd in New Englands and had an opportunity to go to Prep Nationals.
Nick won the 2018 Edward R. Davis Award: awarded to that boy who, in the opinion of the coaches, makes the greatest contribution to the wrestling team through his unselfish loyalty and outstanding performance on the mat.
The summer of 2018, Nick was invited to wrestle for Team Connecticut. He had the opportunity to attend elite wrestling camps during the summer at Princeton University and Rutgers University in preparation for the 2018 Marines Cadet & Junior National Championships in Fargo, North Dakota. With 3,300 wrestlers registered in this annual event, it is the biggest tournament in the world!
Nick is currently in his final year at The Hotchkiss School as a senior (grade 12). Athletically Nick has had the opportunity to be on Hotchkiss teams other than wrestling such as the water polo team, the soccer team and the sailing team (he was sent to Florida for training!). Nick's dedication has landed him a procotorship for the 2018-2019 year. He is also honoured to be selected as co-captain of the wrestling team for the upcoming year.
Nick at The Hotchkiss School, Connecticut, USA.
Shortly after returning to Hotchkiss in August for his final year, he was awarded the Ely Prize for the previous school year: Established in 1957 by members of the Class of '47 in memory of Donald Ely '47, and awarded annually to those members of the upper mid class who, in the opinion of the faculty, are outstanding for combined excellence in character, athletics, and conscientiousness in study.
Some of Nick's wrestling accomplishments:
AWARD

- The Ely Prize, The Hotchkiss School, CT

TEAM CAPTAIN

- The Hotchkiss School 2018/2019 Wrestling Team

AWARD

- Edward R. Davis Wrestling Award, The Hotchkiss School, CT

CONNECTICUT NATIONAL TEAM

- 2018 Marines Cadet/Junior National Championships, Fargo ND

5th

- 2018 New Englands 132pds

BRONZE

- 2018 Western New Englands 132pds

6th

- Bissell Tournment (PA) 132pds

SILVER

- 2018 Rumble on the Hill (PA) 132pds

SILVER

- 2017 Canadian Championships Greco Roman 50kg Juvenile Male

FOURTH

- 2017 Canadian Championships 50 kg Juvenile Male

GOLD

- National Capital Wrestling Festival 51/54kgs Boys Open Combined

TEAM CANADA

- Pan Am Championships 2016, Lima Peru

QUALIFIED

- 2016 50 kg Greco Roman Canadian National Team Trials

AWARD

- 2016 Wrestling Nova Scotia Cadet/Juvenile Male Wrestler of the Year

GOLD

- 2016 54kg South Shore Beach Battle

GOLD

- 2016 54kg NSSAF Provincial Championship

GOLD

- 2016 54kg NSSAF Western Regional Championship

GOLD

- 2016 54kg PEI Open

GOLD

- 2016 54kg Halifax Metro High School Championship

AWARD

- 2015 NSSAF Individual Achievement

GOLD-

2015 50kg NSSAF Provincial Championship

GOLD

- 2015 NSSAF Provincial Team

GOLD

- 2015 50kg NSSAF Western Regional Championship

GOLD

- 2015 50kg Halifax Metro High School Championship

GOLD

- 2015 52kg PEI Open

SILVER

- 2015 50kg Atlantic Canada Championship

SILVER

- 2015 50kg New Brunswick Open
Everything you have read above - wrestling on provincial and national teams, travel across Canada and internationally, attending an elite prep school for free and receiving the incredible experiences and opportunity this offers is all because of his involvement with the Sackville Wrestling Club and Coach Mike Lidstone seeing a further opportunity for Nick and acting on it.
Wrestling has changed Nick's life and gave him unbelievable opportunities and experiences.
The opportunities Nick has had through wrestling, could be yours or your child's. Learn more about joining the Sackville Wresting Club here: Sign Up!